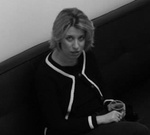 Artemis Potamianou
Bio
Artemis Potamianou is an artist and curator who is currently based in Athens.
Potamianou has had (18) one-person exhibitions in Athens at Hellenic American Union (Athens), at Borough Museum and Art Gallery (Newcastle), Birmingham (MAC -Midlands Art Center of Birmingham),at Fizz Gallery (Athens), at Tint Gallery (Thessaloniki), at Pleiades Gallery (Athens), etc.
She has participated in more than 95 group shows at 1st Biennale of Thessalonica, the BIDA - Biennale of Spain, 3rd Athens Biennale, Vista Mare Foundation (Pescara), International Young Art 2002: Sotheby' s Amsterdam, Sotheby' s Tel Aviv, Sotheby' s Moscow, Change and Partner Contemporary Art (Rome), «Greek Sale»- Bonhams (London), The Benaki Museum (Athens), Biennale Internazionale Dell' Arte Contemporanea (Florence), Open 15 - International Exhibition,(Venice), Tensta Kulturhus-Tensta house of culture, (Stockholm), etc.
Potamianou completed her BA(FA) at the the School of Fine Art (Athens) in 1997, and has subsequently received an MA degree from the Staffordshire University (1999) and she is continue to an MPhil/PhD degree.
She has curated more than 45 exhibitions of important artists of international scene. She has curated exhibitions of Joseph Kosuth, Damien Hirst ,Joseph Beuys, Terry Atkinson, Peter Greenaway, Candice Brietz, Guerrilla Girls, etc.
Potamianou is the curator of Art Athina Contemporaries of International Contemporary Art Fair of Athens since 2012 and Director of Platform Project @ Art Athina 2013 -2014.
Potamianou has written essays for exhibition's catalogues and books.